2009 Vol.27, N°4 - Suppl.55 - Table of contents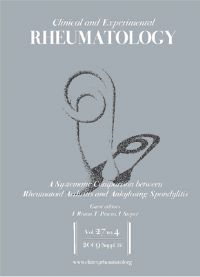 A Systematic Comparison between Rheumatoid Arthritis and Ankylosing Spondylitis
Guest Editors: J. Braun, T. Pincus, J. Sieper
CME Credit are available through the Foundation for Better Health Care (FBHC). The FBHC is accredited by the Accreditation Council for Continuing Medical Education to provide continuing medical education for physicians. The FBHC takes responsibility for the content, quality and scientific integrity of this CME activity.

The FBHC designates this educational activity for a maximum of 10 AMA PRA Category I Credits. Physicians should only claim credits commensurate only with the extent of their participation in the activity.

To receive the credits, for US physicians, please go to page S179-S183.

The Journal thanks Abbott Germany, Amgen Pharmaceuticals; Bristol-Myers Squibb, Inc.; Centocor Inc.; Chugai; Essex Germany; Roche; and UCB Inc., for support of this Supplement.
Page
Article - [Author(s)]
PDF
Abs.
Introduction

CER3634
2009,27,4,Suppl.55
Pg. 0001-0002

A systematic comparison between rheumatoid arthritis and ankylosing spondylitis: an introduction
J. Braun, J. Sieper, T. Pincus › Free to View

CER3635
2009,27,4,Suppl.55
Pg. 0003-0009

How did ankylosing spondylitis become a separate disease?
T.G. Benedek › Free to View
Full Papers

CER3636
2009,27,4,Suppl.55
Pg. 0010-0014

Differences in pathophysiology between rheumatoid arthritis and ankylosing spondylitis
R.J. Lories, D.L.P. Baeten › Free to View

CER3637
2009,27,4,Suppl.55
Pg. 0015-0019

Rheumatoid arthritis and ankylosing spondylitis – pathology of acute inflammation
H. Appel, C. Loddenkemper, P. Miossec › Free to View
Pathophysiology

CER3638
2009,27,4,Suppl.55
Pg. 0020-0025

Genetics of ankylosing spondylitis and rheumatoid arthritis: where are we at currently, and how do they compare?
W.P. Maksymowych, M.A. Brown › Free to View

CER3639
2009,27,4,Suppl.55
Pg. 0026-0032

The immunology of ankylosing spondylitis and rheumatoid arthritis: a tale of similarities and dissimilarities
R.D. Inman, H.S. El-Gabalawy › Free to View

CER3640
2009,27,4,Suppl.55
Pg. 0033-0035

Inflammation and repair mechanisms
G. Schett, J. Sieper › Free to View
Full Papers

CER493
2009,27,4,Suppl.55
Pg. 0036-0042

Differences and similarities between ankylosing spondylitis and rheumatoid arthritis: epidemiology
M. Cross, E. Smith, J. Zochling, L. March
Clinical features

CER3641
2009,27,4,Suppl.55
Pg. 0043-0050

A systematic comparison of rheumatoid arthritris and ankylosing spondylitis
I.E. van der Horst-Bruinsma, W.F. Lems, B.A.C. Dijkmans › Free to View

CER3642
2009,27,4,Suppl.55
Pg. 0051-0055

Entheseal involvement
M.A. D'Agostino, C. Palazzi, I. Olivieri › Free to View

CER3643
2009,27,4,Suppl.55
Pg. 0056-0061

Extra-articular manifestations
H. Mielants, F. Van den Bosch › Free to View

CER3644
2009,27,4,Suppl.55
Pg. 0062-0067

Osteoporosis in rheumatoid arthritis and ankylosing spondylitis
D. Vosse, K. de Vlam › Free to View
Diagnosis, assessment and outcomes

CER3645
2009,27,4,Suppl.55
Pg. 0068-0073

Classification criteria for rheumatoid arthritis and ankylosing spondylitis
J. Braun, J. Sieper › Free to View

CER3646
2009,27,4,Suppl.55
Pg. 0074-0079

Early inflammatory clinics. Experience with early arthritis/back pain clinics.
V. Goëb, J. Smolen, P. Emery, H. Marzo-Ortega › Free to View

CER3647
2009,27,4,Suppl.55
Pg. 0080-0082

Clinical measures in rheumatoid arthritis and ankylosing spondylitis
C. Fendler, J. Braun › Free to View

CER3648
2009,27,4,Suppl.55
Pg. 0083-0091

Challenges comparing functional limitations in rheumatoid arthritis and ankylosing spondylitis
G.H. Louie, J.D. Reveille, M.M. Ward › Free to View

CER3649
2009,27,4,Suppl.55
Pg. 0092-0101

Identification of similarities and differences in functioning in persons with rheumatoid arthritis and ankylosing spondylitis using the International Classification of Functioning, Disability and Health (ICF)
A. Rauch, A. Cieza, A. Boonen, T. Ewert, G. Stucki › Free to View

CER3650
2009,27,4,Suppl.55
Pg. 0102-0107

A systematic comparison of rheumatoid arthritis and ankylosing spondylitis: structural outcomes
R. Landewé, D. van der Heijde › Free to View

CER3651
2009,27,4,Suppl.55
Pg. 0108-0111

Health-related quality of life in patients with rheumatoid arthritis and in patients with ankylosing spondylitis
U. Kiltz, D. van der Heijde › Free to View

CER3652
2009,27,4,Suppl.55
Pg. 0112-0117

The economic burden of disease: comparison between rheumatoid arthritis and ankylosing spondylitis
A. Boonen, W. Mau › Free to View

CER3653
2009,27,4,Suppl.55
Pg. 0118-0123

Cost-of-illness of rheumatoid arthritis and ankylosing spondylitis
L.C. Franke, A.J.H.A. Ament, M.A.F.J. van de Laar, A. Boonen, J.L. Severens › Free to View

CER3654
2009,27,4,Suppl.55
Pg. 0124-0126

Comparison of cardiovascular risk in ankylosing spondylitis and rheumatoid arthritis
D. McCarey, R.D. Sturrock › Free to View

CER3655
2009,27,4,Suppl.55
Pg. 0127-0130

Mortality in rheumatoid arthritis and ankylosing spondylitis
J. Zochling, J. Braun › Free to View

CER3656
2009,27,4,Suppl.55
Pg. 0131-0138

Juvenile idiopathic arthritis. Subgroup characteristics and comparisons between rheumatoid arthritis-like subgroups and ankylosing spondylitis-like subgroups
G. Horneff, R. Burgos-Vargas › Free to View

CER3657
2009,27,4,Suppl.55
Pg. 0139-0145

Late-onset rheumatoid arthritis and late-onset spondyloarthritis
I. Olivieri, N. Pipitone, S. D'Angelo, A. Padula, C. Salvarani › Free to View
Therapies

CER3658
2009,27,4,Suppl.55
Pg. 0146-0147

Treatment of rheumatoid arthritis and ankylosing spondylitis
J. Braun, J. Sieper › Free to View

CER3659
2009,27,4,Suppl.55
Pg. 0148-0151

A systematic comparison of rheumatoid arthritis and ankylosing spondylitis: non-steroidal anti-inflammatory drugs
D. Poddubnyy, I.-H. Song, J. Sieper › Free to View

CER3660
2009,27,4,Suppl.55
Pg. 0152-0158

Analyses of similarities and differences in glucocorticoid therapy between rheumatoid arthritis and ankylosing spondylitis – a systematic comparison
C.M. Spies, G.-R. Burmester, F. Buttgereit › Free to View

CER3661
2009,27,4,Suppl.55
Pg. 0159-0163

Disease-modifying anti-rheumatic drugs in rheumatoid arthritis and ankylosing spondylitis
H. Haibel, C. Specker › Free to View

CER3662
2009,27,4,Suppl.55
Pg. 0164-0167

Biologics in the treatment of rheumatoid arthritis and ankylosing spondylitis
J. Braun, J.R. Kalden › Free to View

CER3663
2009,27,4,Suppl.55
Pg. 0168-0170

A glimpse into the future: recombinant proteins and small molecules for targeted therapies in rheumatic diseases
J.R. Kalden, J. Braun › Free to View

CER3664
2009,27,4,Suppl.55
Pg. 0171-0178

Rehabilitation in rheumatoid arthritis and ankylosing spondylitis: differences and similarities
T.P.M. Vliet Vlieland, L.C. Li › Free to View
Continuing Medical Education

CER3665
2009,27,4,Suppl.55
Pg. 0179-0183

Information - Test
› Free to View