2017 Vol.35, N°2 - Table of contents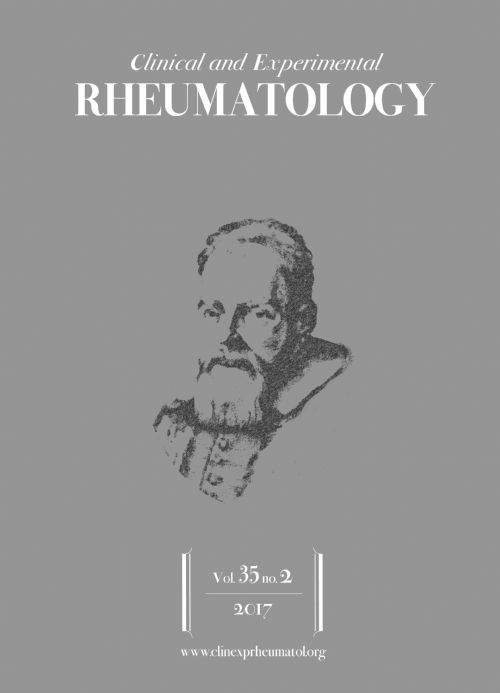 March-April 2017
CME activity available for Italian physicians
The article "One Year in Review 2017: primary Sjögren's syndrome" published in this current issue is also available as an online CME course. The course has been granted 5 (five) CME credits.
The registration and fruition of the online course is free of charge, the fee of EURO 25.00 (=20.49 + VAT) must be paid in order to obtain the credits.
This activity is valid for credit from May 15, 2017 through May 14, 2018.
Page
Article - [Author(s)]
PDF
Abs.
One year in review

CER10335
2017,35,2
Pg. 0179-0191

One year in review 2017: primary Sjögren's syndrome


F. Ferro

,

E. Marcucci

,

M. Orlandi

,

C. Baldini

,

E. Bartoloni-Bocci

› Free to View

This article is also available as an online CME course. The course has been granted 5 (five) CME credits.

The registration and fruition of the online course is free of charge, the fee of EURO 25.00 (=20.49 + VAT) must be paid in order to obtain the credits.

This activity is valid for credit from May 15, 2017 through May 14, 2018.

Full Papers

CER9242
2017,35,2
Pg. 0192-0200

Treat-to-target biologic therapy in patients with rheumatoid arthritis is more efficacious and safe compared to delayed initiation of biologics: a real-world study


C. Lampropoulos

,

P. Orfanos

,

M. Manoussakis

,

A. Tzioufas

,

H. Moutsopoulos

,

P. Vlachoyiannopoulos

CER9324
2017,35,2
Pg. 0201-0208

Diagnosis and treatment of rheumatoid arthritis in the Emilia Romagna region: a prospective population-based study


O. Addimanda

,

M. Marino

,

I. Farina

,

M. Trevisani

,

E. Arrigoni

,

F. Lumetti

,

F. Crescentini

,

P. Sambo

,

A. Bezzi

,

M. Bruschi

,

D. Santilli

,

M. Reta

,

S. Bosi

,

G. Delsante

,

F. Girelli

,

L. Montaguti

,

R. Meliconi

,

M. Sebastiani

,

C. Ferri

,

N. Malavolta

,

M. Govoni

,

S. Trombetti

,

R. De Palma

,

C. Salvarani

CER9489
2017,35,2
Pg. 0209-0213

Flare in axial spondyloarthritis: investigation of meaningful changes in symptomatic outcome measures


M. Dougados

,

E. Wood

,

L. Gossec

,

D. van der Heijde

,

I. Logeart

CER9385
2017,35,2
Pg. 0214-0220

A national survey on the management of psoriatic arthritis using the Delphi method


E. Lubrano

,

F. Cantini

,

A. Mathieu

,

I. Olivieri

,

C. Salvarani

,

R. Scarpa

,

A. Marchesoni

CER9639
2017,35,2
Pg. 0221-0228

Necessity of TNF-alpha inhibitor discontinuation in rheumatoid arthritis is predicted by smoking and number of previously used biological DMARDs


B. Cuppen

,

J. Jacobs

,

E. ter Borg

,

A. Marijnissen

,

J. Bijlsma

,

F. Lafeber

,

J. van Laar

; on behalf of all SRU investigators. › Free to View



CER9325
2017,35,2
Pg. 0229-0233

Genetic diagnostic profiling in axial spondyloarthritis: a real world study.


G. Thomas

,

D. Willner

,

P. Robinson

,

A. Cortes

,

R. Duan

,

M. Rudwaleit

,

N. Akkoc

,

J. Braun

,

C. Chou

,

W. Maksymowych

,

S. Ozgocmen

,

E. Roussou

,

J. Sieper

,

R. Valle-Oñate

,

D. van der Heijde

,

J. Wei

,

P. Leo

,

M. Brown

; and the International Genetics of Ankylosing Spondylitis Consortium

CER9522
2017,35,2
Pg. 0234-0240

Predictive significance of CCL21 and CXCL13 levels in the minor salivary glands of patients with Sjögren's syndrome


K. Lee

,

J. Kang

,

Y. Yim

,

J. Kim

,

J. Lee

,

L. Wen

,

D. Park

,

T. Kim

,

Y. Park

,

K. Yoon

,

J. Lee

,

S. Lee

CER9463
2017,35,2
Pg. 0241-0246

Rituximab increases peripheral natural killer cells in patients with rheumatoid arthritis


A. Giollo

,

O. Viapiana

,

A. Carletto

,

R. Ortolani

,

D. Biasi

,

D. Gatti

,

S. Adami

,

M. Rossini

CER9493
2017,35,2
Pg. 0247-0254

DNA damage increase in peripheral neutrophils from patients with rheumatoid arthritis is associated with the disease activity and the presence of shared epitope


G. Martelli-Palomino

,

A. Paoliello-Paschoalato

,

J. Crispim

,

D. Rassi

,

R. Oliveira

,

P. Louzada

,

Y. Lucisano-Valim

,

E. Donadi

CER9676
2017,35,2
Pg. 0255-0261

Physical fatigue characterises patient experience of primary Sjögren's syndrome


S. Arends

,

P. Meiners

,

R. Moerman

,

F. Kroese

,

E. Brouwer

,

F. Spijkervet

,

A. Vissink

,

H. Bootsma

CER9478
2017,35,2
Pg. 0262-0269

Comparing diffusion weighted imaging with clinical and blood parameters, and with short tau inversion recovery sequence in detecting spinal and sacroiliac joint inflammation in axial spondyloarthritis


H. Chung

,

X. Xu

,

V. Lau

,

G. Ho

,

K. Lee

,

P. Li

,

H. Tsang

,

S. Kwok

,

C. Lau

,

C. Wong

CER9497
2017,35,2
Pg. 0270-0276

Clinical and genetic associations of radiographic sacroiliitis and its different patterns in psoriatic arthritis


M. Haroon

,

R. Winchester

,

J. Giles

,

E. Heffernan

,

O. FitzGerald

› Free to View

CER9698
2017,35,2
Pg. 0277-0287

Increased mortality of incident rheumatoid arthritis versus matched non-RA control subjects: a community-based long-term prospective cohort study


A. Masi

,

A. Rehman

,

L. Jorgenson

,

J. Aldag

CER9553
2017,35,2
Pg. 0288-0295

Comparable therapeutic potential of umbilical cord mesenchymal stem cells in collagen-induced arthritis to TNF inhibitor or anti-CD20 treatment


Y. Sun

,

W. Kong

,

S. Huang

,

B. Shi

,

H. Zhang

,

W. Chen

,

H. Zhang

,

C. Zhao

,

X. Tang

,

G. Yao

,

X. Feng

,

L. Sun

CER9568
2017,35,2
Pg. 0296-0302

Management of dyslipidaemia in high-risk patients with recent-onset rheumatoid arthritis: targets still not met despite specific recommendations. Results from the ESPOIR cohort during the first five years of follow-up


A. Tournadre

,

B. Pereira

,

J. Dubost

,

N. Rincheval

,

A. Rat

,

B. Combe

,

M. Soubrier

CER9657
2017,35,2
Pg. 0303-0308

Calcinosis in poly-dermatomyositis: clinical and laboratory predictors and treatment options


M. Fredi

,

F. Bartoli

,

I. Cavazzana

,

A. Ceribelli

,

N. Carabellese

,

A. Tincani

,

M. Satoh

,

F. Franceschini

› Free to View
Brief Papers

CER9004
2017,35,2
Pg. 0309-0312

Circulating carotenoids and subsequent risk of rheumatoid arthritis in women


Y. Hu

,

J. Cui

,

J. Sparks

,

S. Malspeis

,

K. Costenbader

,

E. Karlson

,

B. Lu

CER9393
2017,35,2
Pg. 0313-0316

Assessment of semaphorin 3A and its role in bone remodelling in a group of ankylosing spondylitis patients


F. Perrotta

,

F. Ceccarelli

,

C. Barbati

,

T. Colasanti

,

M. Montepaone

,

C. Alessandri

,

G. Valesini

,

E. Lubrano

CER9609
2017,35,2
Pg. 0317-0320

Abatacept treatment of patients with primary Sjögren's syndrome results in a decrease of germinal centres in salivary gland tissue


E. Haacke

,

B. van der Vegt

,

P. Meiners

,

A. Vissink

,

F. Spijkervet

,

H. Bootsma

,

F. Kroese

History of Medicine

CER9480
2017,35,2
Pg. 0321-0326

On the history of gout: paleopathological evidence from the Medici family of Florence


V. Giuffra

,

S. Minozzi

,

A. Vitiello

,

A. Fornaciari

Case Reports

CER9808
2017,35,2
Pg. 0327-0329

Evolving spectrum of LRBA deficiency-associated chronic arthritis: is there a causative role in juvenile idiopathic arthritis?


S. Al-Mayouf

,

H. Naji

,

K. Alismail

,

A. Alazami

,

F. Sheikh

,

W. Conca

,

H. Al-Mousa

Review

CER9588
2017,35,2
Pg. 0330-0336

The role and diagnostic value of cell-free DNA in systemic lupus erythematosus


A. Truszewska

,

B. Foroncewicz

,

L. Pączek

CER9563
2017,35,2
Pg. 0337-0343

TNF inhibitors increase fat mass in inflammatory rheumatic disease: a systematic review with meta-analysis


S. Marouen

,

T. Barnetche

,

B. Combe

,

J. Morel

,

C. Daïen

Paediatric Rheumatology

CER9873
2017,35,2
Pg. 0344-0500

Myocardial performance index in active and inactive paediatric systemic lupus erythematosus


A. Khositseth

,

W. Prangwatanagul

,

K. Tangnararatchakit

,

S. Vilaiyuk

,

N. Su-angka

› Free to View
Letters to the Editor

CER9961
2017,35,2
Pg. 0351

Anti-carbonic anhydrase autoantibodies and serum beta-2 microglobulin correlate with the ClinESSDAI score in patients with Sjögren's syndrome


M. Pertovaara

,

S. Parkkila

,

M. Korpela

› Free to View

CER9401
2017,35,2
Pg. 0352

Profile of initial drug therapy in paediatric systemic lupus erythematosus in Finland, 2000-2007


P. Elfving

,

K. Puolakka

,

H. Kautiainen

,

L. Virta

,

T. Pohjolainen

,

O. Kaipiainen- Seppänen

› Free to View

CER10082
2017,35,2
Pg. 0353

Transfusion-related acute lung injury in a patient with systemic lupus erythematosus


E. Pelechas

,

N. Gerolymatou

,

P. Voulgari

,

A. Drosos

› Free to View

CER10024
2017,35,2
Pg. 0354-0355

Enhanced gut homing receptor expression of unswitched memory B cells in rheumatoid arthritis.


Y. Nagafuchi

,

H. Shoda

,

S. Sumitomo

,

S. Nakachi

,

R. Kato

,

Y. Tsuchida

,

H. Tsuchiya

,

K. Sakurai

,

N. Hanata

,

S. Tateishi

,

H. Kanda

,

K. Fujio

,

K. Yamamoto

› Free to View

CER9724
2017,35,2
Pg. 0356-0357

A case report of neurosarcoidosis successfully treated with an infliximab biosimilar after a relapse while on dual therapy


D. Merinopoulos

,

F. Hayes

,

D. Gallagher

,

B. Dasgupta

› Free to View